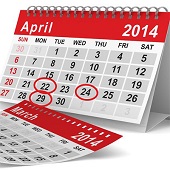 Nearly every small and mid-sized business (SMB) has critical data, information, and systems it couldn't do without. From email servers, to customer databases, to critical data files — losing any of them for very long would be disastrous for the bottom line… and possibly even put them out of business.
There are often BIG differences between what business owners and managers "think" they have regarding backup and recovery compared to what they actually have. Because backup and disaster recovery is definitely an issue you want to pay attention to BEFORE you need it, Wolf Consulting is holding a free Informational Briefing where you'll learn six critical questions every owner and manager should know the answer to for their business.
In the Informational Briefing, we'll expand on our white paper about backups, and we'll present additional information and answer questions about the following:
Dispelling backup myths.
What types of failures do backups protect against?
What is the difference between Data Recovery and Business Continuity?
What should be backed up?
What is the difference between what you "think" you have compared to what you actually have?
And of course: The 6 critical backup and recovery questions you should be able to answer for your business.
This Informational Briefing is designed for business owners, executives and managers of existing clients and prospective clients of Wolf Consulting, Inc. Naturally, there will be a little bit of technical information weaved into the discussion, but the presentation will be at a higher business level - specifically for business owners and managers.  The presentation is NOT designed for network administrators and it will NOT be extremely technical.
A note to existing clients of Wolf Consulting, Inc: Yes, we manage your backups for you and we go a good job. But you should still attend this Informational Briefing. You will learn valuable information about backup and recovery for your business.
There are three locations, dates and times available in April. The content is the same at each event. Chose the event that is most convenient for you:
Option 1 – Downtown
Date: Tuesday, April 22, 2014
Time: 8:30am – 10:00am
Location:
Cowden Associates, Inc.
Four Gateway Center, Suite 605
444 Liberty Avenue
Pittsburgh, PA 15222
Option 2 – Greentree
Date: Thursday, April 24, 2014
Time: 11:30am – 1:00pm
Location:
Peak Performance Management
Foster Plaza, Bldg XI
790 Holiday Drive
Pittsburgh, PA 15220
Option 3 – Murrysville
Date: Tuesday, April 29, 2014
Time: 3:00pm – 4:30pm
Location:
Wolf Consulting, Inc
3875 Franklintowne Court
Suite 110
Murrysville, PA 15668
If you would like to learn more about making sure your business is protected, and how to identify risks to your business, then this Informational Briefing is for you! To reserve your seat, or if you have any questions, please call us at 724-325-2900 x4 .The briefing is free of charge, but seating is limited. Light refreshments will be served.
Call 724-325-2900 x4 today to reserve your seat!